---
---
---
Contact
Manuela Schmidtke
phone: (0345) 55-24191
fax: (0345) 55-27603
sekretariat@ethnologie.uni-...
Reichardtstraße 11
06114 Halle (Saale)
Cornelia Heimann
phone: (0345) 55-24201
fax: (0345) 55-27603
secretary@ethnologie.uni-ha...
Reichardtstraße 11
06114 Halle (Saale)
Seminar für Ethnologie
Reichardtstraße 11
06114 Halle (Saale)
postal address:
Seminar für Ethnologie
06099 Halle (Saale)
---
---
Login for editors
---
Institute for Social and Cultural Anthropology
---
Current issues
Inaugural lecture Prof. Asta Vonderau
Title: Was hält die Dinge zusammen, wenn sie auseinanderfallen? Für eine Ethnologie tatsächlicher und möglicher Welten.
The inaugural lecture takes place on the 5th of February 2020, 6 pm, at Hallischer Saal, "Tulpe", Universitätsring 05, 06108 Halle (Saale).
Recently published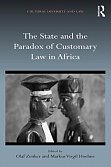 Recently published as paperback The State and the Paradox of Customary Law in Africa (Routledge), edited by Olaf Zenker and Markus V. Hoehne.
Ethnologie in den Medien
Im Rahmen des Social Citizen Science Projektes "Gute Nachbarschaften" sind zwei Podcasts als studentische Arbeiten entstanden und wurden auf Radio Corax ausgestrahlt.
Luisa Mohr beschäftigte sich mit Fragen rund um das Zusammenleben in der südlichen Neustadt. Was macht Nachbarschaft aus? Welche Herausforderungen birgt ein Zusammenleben in der Neustadt? Aber auch wie sieht ein gelebtes Miteinander vor Ort aus? Antworten dazu findet Ihr hier !
Paula Lochau und Milena Leisenheimer haben in ihrem Podcast Reaktionen auf den rechtsterroristischen Anschlag vom 09.Oktober 2019 eingefangen. In Gesprächen mit Anwohnern des Paulusviertels, mit Betroffenen und zivilgesellschaftlichen Akteuren der Stadt gehen sie der Frage nach, wie Solidarität und Anteilnahme in der Nachbarschaft gelebt wird. Nachzuhören hier !
Personal
Dr. Timm Sureau ist ab dem 1. Januar 2020 offizielles Mitglied am Seminar für Ethnologie im Sonderforschungsbereich der DFG "Affective Societies: Dynamiken des Zusammenlebens in bewegten Welten".
Dr. Alena Thiel ist ab dem 1. November 2019 offizielles Mitglied am Seminar für Ethnologie im DFG-Projekt "Identifikationstechnologien und numerische Analysen von Entwicklung".
Dr. Felix Ringel (Institut für Anthropologie an der Universität Durham) ist im WS 2019/2020 Gastdozent am Seminar für Ethnologie. Seine Lehrtätigkeit umfasst das BA-Seminar "Zur Zukunft postindustrieller Städte: Anthropologische Studien urbanen Wandels und kollektiver Zeitlichkeit".
Neues Forschungsprojekt zur Ebola Epidemie in Kivu, Demokratische Republic Kongo der MLU und dem Pole Institute (DR Kongo)
Masterstudiengang Ethnologie / Social and Cultural Anthropology in Halle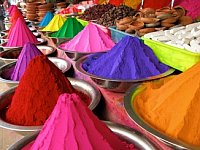 Der zweisprachige Masterstudiengang MA Ethnologie 120 beinhaltet neben dem sozial- und kulturtheoretisch fundierten Studium auch die angeleitete Konzeption und Durchführung eines individuellen empirischen Forschungsprojekts weltweit. Beispiele studentischer Masterforschungsfelder gibt es hier.
Bis zum 31. August 2019 hier bewerben.
Guest lectures / Presentations
On the 15th of January 2020, Boris Wille gives a presentation entitled "Littoral Engineering: First Observations in the Maldives and Prospects for Indian Ocean Studies" as part of the conference "Port City Environments in Global Asia" at the New York University in Abu Dhabi.
Within the Joint Institutes Colloquium, MPI for Social Anthropology and Seminar for Social Anthropology, MLU the following lectures
will be given: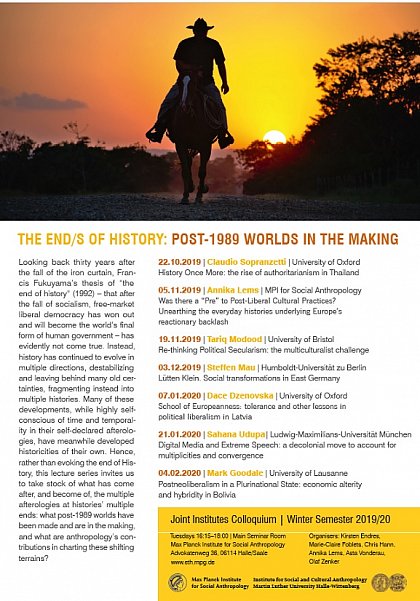 ---
---