---
---
---
Contact
Bianca Bernig
phone: (0345) 55-24191
fax: (0345) 55-27603
sekretariat@ethnologie.uni-...
Reichardtstraße 11
06114 Halle (Saale)
Cornelia Heimann
phone: (0345) 55-24201
fax: (0345) 55-27603
secretary@ethnologie.uni-ha...
Reichardtstraße 11
06114 Halle (Saale)
Seminar für Ethnologie
Reichardtstraße 11
06114 Halle (Saale)
postal address:
Seminar für Ethnologie
06099 Halle (Saale)
---
---
Login for editors
---
Institute for Social and Cultural Anthropology
Current issues
Information about Coronavirus / Covid-19 (updated 25/8/22)
Important informations about teaching programme
The teaching programme for the winter term 22/23 is now online!
It is no longer mandatory to wear a mask; neither in class, nor at the SfE.
Students should keep an eye on this homepage and the homepage of the university. Students should also check informations for their individual courses on StudIP.
We would also like to inform you about the psychological counseling services provided by the Studentenwerk Halle.

Teaching programme 2022/2023
KVV_Ethnologie_WiSe2022_23_FINAL_7.pdf (492 KB) vom 19.09.2022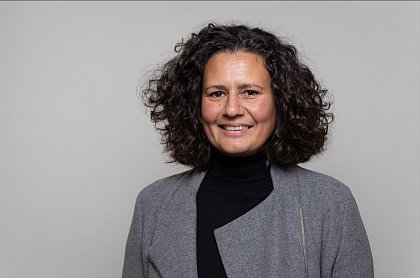 Anita von Poser (Foto: Marian Sorge)
A warm welcome to our new Professor Anita von Poser!
On 1st October 2022 Prof. Dr. Anita von Poser was appointed as Full Professor at the Institute for Social and Cultural Anthropology at Martin Luther University Halle-Wittenberg, where she holds the chair for 'Mobility Studies' focusing on human-human and human-environmental relations. After her master's and doctoral studies at Heidelberg University, where she received her DPhil in Social and Cultural Anthropology in 2009, she became MaxNetAging Postdoctoral Fellow at the Max Planck Institutes for Demographic Research in Rostock and for Social Anthropology in Halle/Saale. At Freie Universität Berlin, starting in 2011, she was first Postdoctoral Research Associate at the Institute of Social and Cultural Anthropology, before becoming Principal Investigator in the Collaborative Research Center Affective Societies in 2015 and Professor of Psychological Anthropology with a focus on 'Migration, Psyche, Aging' in 2021. She combines her regional foci on Oceanic and diasporic-Vietnamese lifeworlds with her theoretical interests, especially in the fields of the Anthropology of Social Relationships as well as Psychological and Phenomenological Anthropology. In the coming years, her research and teaching will focus on phenomena of social, spatial, and material im-/mobility in view of fragmented contexts of care, altering life-courses, and ecological transformations. We are excited about her appointment and look forward to our collaboration!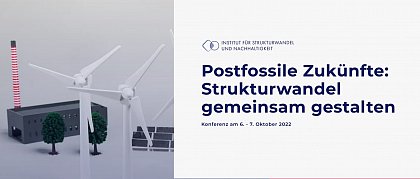 HALIS-Konferenz
Conference - Postfossil futures: Shaping Structural Change together
The Institute for Structural Change and Sustainability (HALIS) invites you to a conference on October 6 and 7 in Halle. From an interdisciplinary perspective, the HALIS-Conference will discuss ways to shape the current structural change efforts and thus provide a forum for negotiating postfossil futures in the region and beyond. More information about the programme and about how to register for the conference can be found here.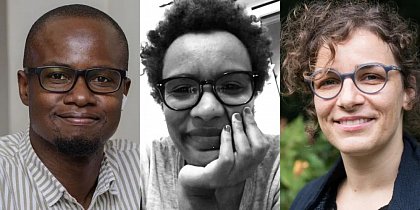 Projekt "African Studies in Germany through the lens of Critical Race Theory"
Questioning African Studies in Germany
The project "African Studies in Germany through the lens of Critical Race Theory" has prevailed in the new funding initiative "Aufbruch - Neue Forschungsräume für die Geistes- und Kulturwissenschaften" of the Volkswagen Foundation as one of only nine out of a 196 applications: within the research group Political and Legal Anthropology at our Institute, Dr. Yusuf Serunkuma, together with Dr. Serawit B. Debele from the University of Bayreuth and Dr. Stephanie Lämmert from the Max Planck Institute for Human Development in Berlin, will examine African Studies in Germany from the perspective of Critical Race Theory.
For further information see here .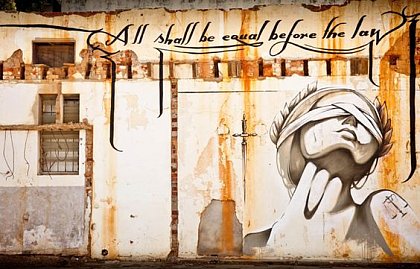 Workshop: Justice in the Anthropocene
Workshop "Justice in the Anthropocene" of the DGSKA-AG "Political and Legal Anthropology" organized by Olaf Zenker and Anna-Lena Wolf (5-7 October 2022)
From 5 to 7 October 2022, Olaf Zenker and Anna-Lena Wolf will organize a workshop of the German Anthropological Association's working group "Political and Legal Anthropology" entitled "Justice in the Anthropocene." The workshop will take place in an ancient pasta factory in Zeitz and brings into conversation current debates about the Anthropocene and the emerging new anthropology of justice. Focusing on how conceptions of justice change in the Anthropocene and what moral, social, political, and environmental consequences different theories of justice have for variously implicated actors in the Anthropocene, the workshop engages broader ontological, epistemological, and ethical debates concerning the public ramifications of anthropocentrism and post-humanism.
If you are interested in participating in the workshop online, please contact Thomas Götzelmann at: thomas.goetzelmann@ethnologie.uni-halle.de.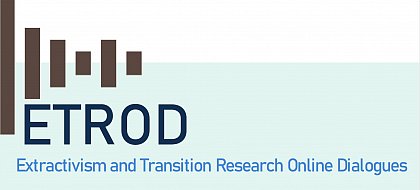 Energy Transition Online Dialogues
New round of ETROD - Extractivism and Transition Research Online Dialogues
We hereby invite you to the first session of a new round of ETROD - Extractivism and Transition Research Online Dialogues.
On Thursday, 29th September 2022 from 4 to 5.45 pm ETROD welcomes Dr. Beril Ocaklı from the Centre for East European and International Studies, Berlin. Beril will talk about "Situating extractivism in post-Soviet geographies. The un/making of Kyrgyzstan's gold rush".

If you are interested in joining the session and did not yet register to ETROD, please sent a mail to etrod@zirs.uni-halle.de to receive the Zoom link and readings.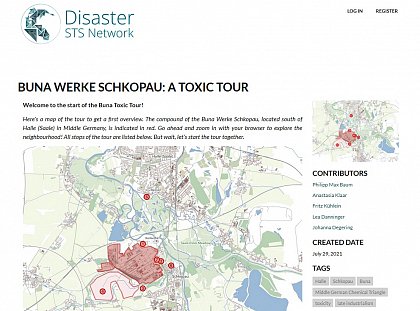 Buna Werke Schkopau: A Toxic Tour
The research work of our Master's students Philipp Max Baum, Anastasia Klaar, Fritz Kühlein, Lea Danninger and Johanna Degering has now been published on the Disaster-STS Network platform. Buna Werke Schkopau: A Toxic Tour describes the toxic afterlife around the chemical site in Schkopau near Halle. The project was part of an MA seminar on toxicity with Prof. Asta Vonderau.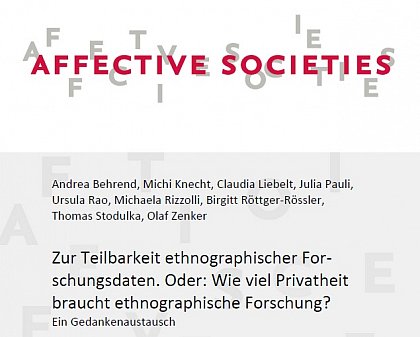 On Sharing Ethnographic Data. Or: How Much Privacy Does Ethnographic Research Need? A Conversation
What does the growing demand for "open science" increasing the pressure to make research data publicly available mean for ethnographic research? What challenges, problems and opportunities arise from the preparation and archiving of anthropological research data in repositories, especially for possible subsequent use? Which shifts in the relationship between the public and private spheres occur when making ethnographic data available and which materials are suitable for this purpose? How much effort does the preparation of research materials entail and which publics should be addressed at all? These and other aspects were discussed in December 2021 by a total of nine social and cultural anthropologists working at different universities and research institutions in an online discussion group. The minimally language-edited, but otherwise unchanged version of this exchange of ideas, which was approved by the interlocutors, is now published in the series "SFB Affective Societies - Working Papers" in order to stimulate further reflection on this increasingly important topic.
The Working Paper can be found here .
Forschungsbasierter Masterstudiengang Ethnologie / Social and Cultural Anthropology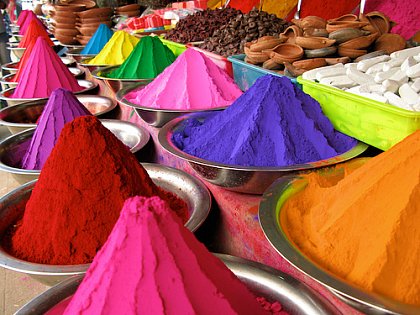 MA Social and Cultural Anthropology Halle
Der zweisprachige Masterstudiengang MA Ethnologie 120 beinhaltet neben dem sozial- und kulturtheoretisch fundierten Studium auch die angeleitete Konzeption und Durchführung eines individuellen empirischen Forschungsprojekts weltweit. Beispiele studentischer Masterforschungsfelder gibt es hier.
Alle weiteren Infos finden sich hier. Allgemeine Informationen zur Bewerbung während der Corona-Epidemie finden sich hier.
---
---