---
---
---
Contact
Manuela Schmidtke
phone: (0345) 55-24191
fax: (0345) 55-27603
sekretariat@ethnologie.uni-...
Reichardtstraße 11
06114 Halle (Saale)
Cornelia Heimann
phone: (0345) 55-24201
fax: (0345) 55-27603
secretary@ethnologie.uni-ha...
Reichardtstraße 11
06114 Halle (Saale)
Seminar für Ethnologie
Reichardtstraße 11
06114 Halle (Saale)
postal address:
Seminar für Ethnologie
06099 Halle (Saale)
---
---
Login for editors
---
Institute for Social and Cultural Anthropology
Current issues
Informations about Coronavirus / Covid-19 (updated 02/11)
Important informations about teaching program
Due to the current corona situation, the syllabus for the upcoming winter term is to be understood with reservation. Adjustments in the presence and/or online teaching are possible.
In order to allow enough time for air circulation, the timeframes for all classes have changed. Details can be found in the attached document.
Students should keep an eye on this homepage and the homepage of the university. Students should also check informations for their individual courses on StudIP.

Due to the corona situation access to the secretary`s office must be restricted. Please communicate via mail. For submitting seminar papers please use the postbox.
Syllabus Winter Term 2020/2021
KVV_Ethnologie_WiSe 2020_21_Stand_02.11..pdf (764.8 KB) vom 02.11.2020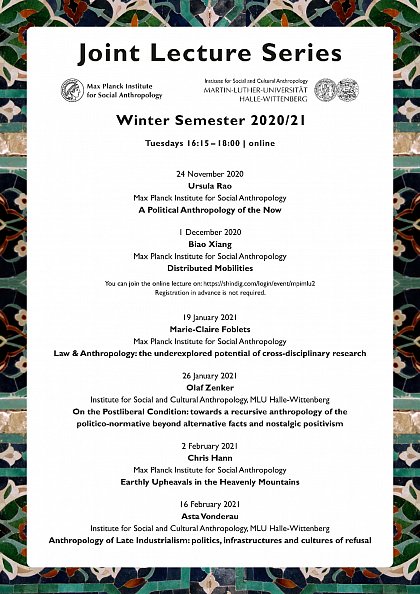 Joint Institute Colloquium 20/21
Announcement: Joint Institute Colloquium
The upcomming winter semester sees the return of the joint colloquium of the Max Planck Institute for Social Anthropology and the Institute for Social Anthropology at the MLU. Each lecture will start at 4.15 pm and can be accessed here: https://shindig.com/login/event/mpimlu2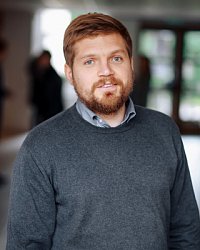 Guest Lecturer: Dr. Siarhei Liubimau
Dr. Siarhei Liubimau will join the Institute for Social Anthropology as a guest lecturer from the 1st of October until the 31st of December. He works at the European Humanities University and the Laboratory of Critical Urbanism in Vilnius where focuses on the city, energy, digitalisation, borders and social theory. In the upcoming winter semester, Siarhei Liubimau will teach the BA-course "Post Nuclear Urbanism: Cultures and Geographies of Energy Transitions".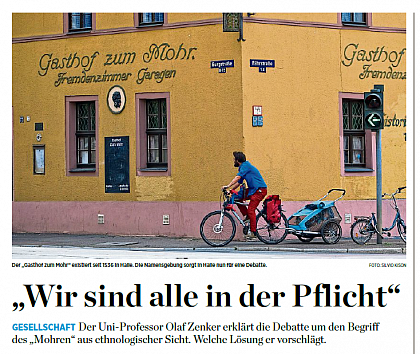 "Wir sind alle in der Pflicht"
Interview
In the Mitteldeutsche Zeitung (6-7/9/2020) Olaf Zenker comments on the current debate about the term "Mohr" in Halle. For the full interview follow this link .
Die Bewerbungsphase für unseren forschungsbasierten Masterstudiengang Ethnologie / Social and Cultural Anthropology in Halle läuft!
Bewerbt Euch jetzt!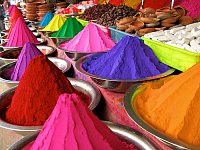 MA Social and Cultural Anthropology Halle
Der zweisprachige Masterstudiengang MA Ethnologie 120 beinhaltet neben dem sozial- und kulturtheoretisch fundierten Studium auch die angeleitete Konzeption und Durchführung eines individuellen empirischen Forschungsprojekts weltweit. Beispiele studentischer Masterforschungsfelder gibt es hier.
Bitte beachtet: Abweichend von den gängigen Bewerbungsterminen wurde dieses Jahr die Bewerbungsphase bis zum 30.September 2020 verlängert!
Alle weiteren Infos findet ihr hier.
Allgemeine Informationen zur Bewerbung während der Corona-Epidemie finden sich hier.

---
---