---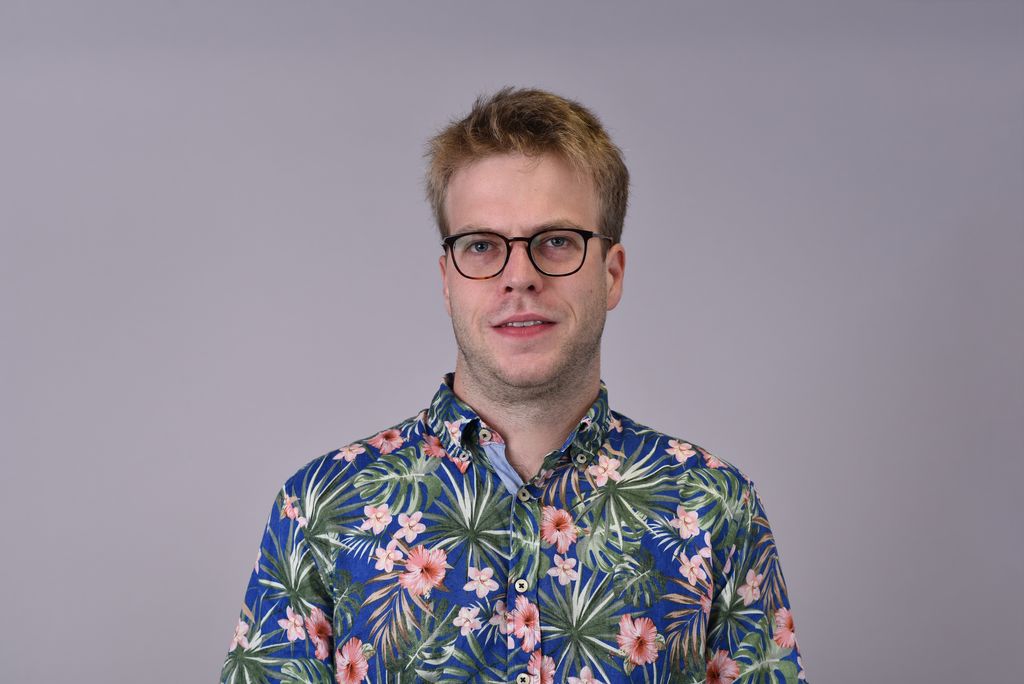 ---
---
Contact
Felix Schiedlowski, M.A.
phone: +49 345 55-24196
felix.schiedlowski@ethnolog...
room 303
Reichardtstraße 11
06116 Halle
Sprechstunde: nach Vereinbarung
postal address:
Felix Schiedlowski, M.A.
06099 Halle (Saale)
---
---
Login for editors
---
Felix Schiedlowski, M.A.
Research Interests
Transformation of politics and societies - change, rupture, gaps
Post-fossil society: Phasing-out coal in an Eastern German mining district
Energy transition: The unwinding of coal
Urban change: Peace in Belfast, Northern Ireland
Research Areas
Eastern Germany (Central German Mining District), Northern Ireland
PhD research:
A world full of gaps: Phasing-down coal and the quest for a post-fossil society in Eastern Germany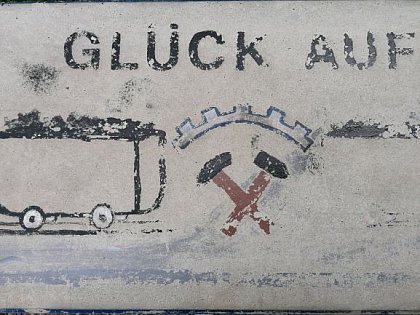 Glück Auf, Bitterfeld, Juni 2020
Supervisor: Professor Asta Vonderau (supervisor, University Halle-Wittenberg), Assistant Professor Felix Ringel (co-supervisor, Durham University)
The gradual implementation of the German coal phase-out – executed by no later than 2038 – will provide mounting challenges for the Central German Mining District. Alongside the nuclear power phase-out in 2022 and the build-up of renewable energies like solar, wind power, or green hydrogen, Germany intends carbon neutrality by 2045. In 2018, the German government announced a definite coal phase-out, but details were devolved towards a board of experts. Therefore, the "Commission on Growth, Structural Change, and Employment" aimed to find a consensus between climate justice, energy security, economic stability, and social peace in the three remaining coal districts, Rhineland, Lusatia, and Central Germany. Climate justice, energy transition, and the finite nature of fossil resources are the driving forces behind this process labelled as Strukturwandel, indicating that something more significant than a pure economic transformation is intended. The regionally established interplay of labour, economy, and energy is changing. Pillars of society will be re-negotiated, protected, modified, or improved. Challenges of today are labelled as chances for tomorrow; Strukturwandel shall be a transition towards a sustainable future.
This project investigates how different groups of players in the Central German Mining District try to keep pace with the making of post-carbon futures. I understand Strukturwandel as a development policy, influenced and challenged by multiple actors on state, county, and regional levels; in political parties, commissions, and interest groups; in media discourses and public events. Between February 2020 and August 2021, I have observed this parallel process of decline and renewal. I have researched how politicians, miners, civil servants, citizens, regional planners, and business representatives within this process are eager to become stakeholders, brokers, experts, apolitical or ordinary people. Some fear de-industrialisation and loss, while others try to transform this mining district into a model region for sustainable growth. Here, the global demon of climate change translates into local efforts to build a post-carbon energy landscape and society. This transformation provokes anticipation, desire, hope, hesitation, scepticism, refusal, and indifference.
On a theoretical level, I introduce the concept of thinking in gaps. After conducting fieldwork by following the policy of Strukturwandel, I have identified gaps in various forms: Sometimes, promises don't hold. Some people, often closely aligned with coal, cannot keep pace with new definitions of the good life and are blamed for living the wrong life. Sometimes the narratives of a proud industrial past and a sustainable future get stuck in a present that is not yet and no more. This project aims to translate the multiple emic experiences of gaps into an anthropological way of arguing. It raises questions: How is the post-fossil society made, and who is supposed to play a part in it? How are notions of the good life inscribed in the energy transition process? How do categories of the wrong life come into force, and how do the people react who seem to live the wrong life? How is the phasing-down of coal entangled with temporal orientations? And, how do people make sense of the world we live in?
MA research (2016 - 2019)
Northern Irish Unionism and the Transformation of Belfast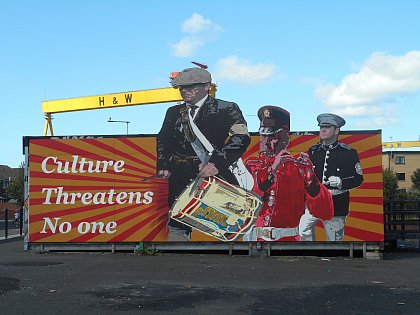 Wandbild in Ost-Belfast
Keywords: Protestant Unionist Loyalist, Peace Process, Northern Irish Conflict, Urban Change
Belfast is no longer the epicentre of the Northern Irish conflict. Today, more than 20 years after the signing of the Good Friday Agreement, the city is changing rapidly: While still suffering from a deep polarisation between Protestant and Catholic communities, Belfast also becomes welcoming and attracts tourists and inward investment alike. Belfast, so long a city of terror, aims to become a city of peace. In this MA thesis, the change of the Northern Irish capital is researched from the perspective of the city's unionist community. For long associated with conflict, might unionist culture and identity become a promising commodity in a new Belfast? Or is unionism rather struggling to keep pace with those urban developments, as their defensive attitudes towards the peace process might be a burden?
In four chapters, four urban spaces are portrayed: The city centre as the main stage point of a new Belfast, the Protestant Shankill Road as a representative of a polarised city, Sandy Row as a working-class Protestant enclave in fear of displacement and gentrification as well as East Belfast, where Protestant cultural heritage is re-discovered. All districts are confronted with different courses of action – some see chances, others show a feeling of unease or opt for isolation. All those places face different challenges; people living there follow different tactics. However, what all four urban spaces have in common is an ongoing search for a home in modern-day Belfast.
Unionism in Belfast has to reach out and has to build bridges. In many respect, Northern Irish unionism has to re-invent itself, and the change of Belfast offers the chance to do just that.
---
---